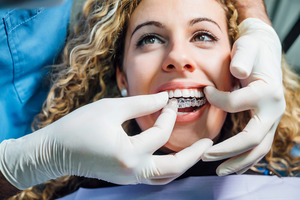 Thanks to Invisalign, you can straighten your smile without having to wear unsightly metal braces or worry about avoiding certain foods. However, before you commit to the treatment, you should make sure that you understand it. Below is a step-by-step breakdown of what you can expect to happen during the Invisalign process.
Step 1: Initial Consultation
Before anything else, it's important to confirm that you're a candidate for Invisalign. After all, no treatment is right for every patient; if you have a particularly complicated orthodontic issue, braces may be a better choice. At your initial Invisalign consultation, your dentist will examine your mouth and figure out what movements your teeth need to make to create a perfectly aligned smile. Then they can determine whether Invisalign is the best option in your case.
Step 2: Taking Impressions
After confirming your candidacy for Invisalign, your dentist will need to take an impression of your smile. Said impression will be sent to a separate dental lab along with instructions on how the aligners should be made. The experts at the lab will create several pairs of aligners, with the exact number depending on your specific needs.
Step 3: Getting Your Aligners
After a couple of weeks or so, your dentist will receive your aligners, and you'll be able to schedule an appointment to have them placed. In some cases, small bumps of composite resin – commonly referred to as "buttons" – will be attached to some of your teeth to help hold your aligners in place. During this appointment, your dental team will show you how to put your aligners in as well as how to take them out. They'll also explain how long you'll need to wear them each day (typically 20 to 22 hours).
Step 4: Follow-Up Appointments
Each aligner is worn for about two weeks at a time. You'll periodically return to your dentist's office so that they can make sure that the teeth are moving correctly. If everything is on track, they'll give you the next set of aligners. In the event that there's an issue, you'll be given an overview of what steps need to be taken to correct it.
Step 5: Final Refinements
Even after you've finished with all of your initial Invisalign aligners, your teeth may still need one or two slight tweaks to reach their optimal alignment. New impressions will be taken to make the necessary aligners for the final adjustments. Typically, only one or two refinements will be necessary.
Step 6: Button Removal and Retainers
Once your teeth have all reached their ideal positions, the buttons will be removed. You'll be given retainers to maintain the results of your treatment. At first, you'll wear them at all times, but after a while, you'll only need to keep them in your mouth at night. As long as you're diligent about using your retainers, you'll be able to enjoy your perfectly aligned smile for a long time to come.
About the Author
Dr. Kevin Young has well over two decades of dental experience. He graduated from the Ohio State University dental school in 1986, and he is a member of the Ohio Dental Association, the Columbus Dental Society, and the American Dental Association. At his Lewis Center practice, The Dental Group at Polaris, he offers Invisalign as a discreet solution for crooked teeth. To schedule a consultation with Dr. Young, visit his website or call (614) 888-3692.