Cosmetic Dentist – Lewis Center, OH
Boosting Your Confidence in Your Smile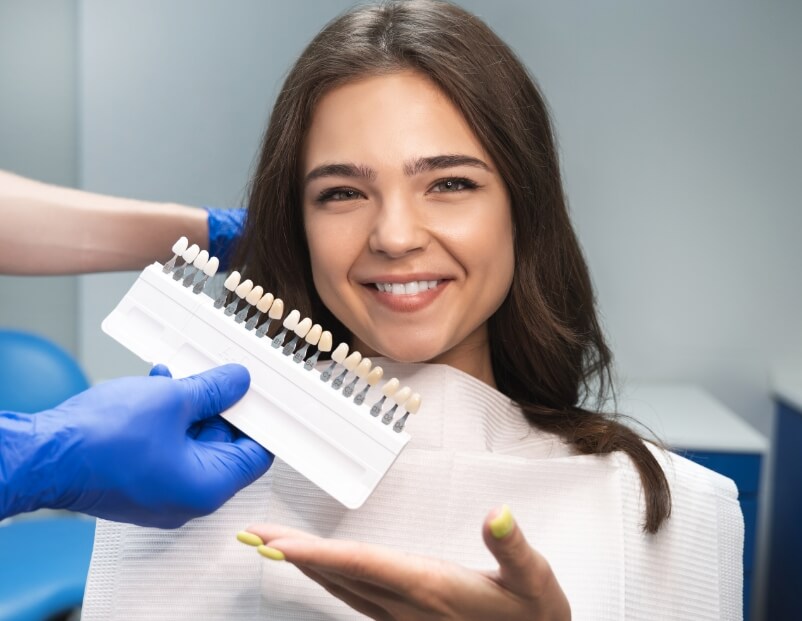 At The Dental Group at Polaris, our dentistry team understands how much the appearance of your smile can impact your day-to-day life and self-confidence. With undamaged, bright, and beautiful teeth, you'll likely feel more comfortable showing off your grin when you're around friends and family members or smiling after a job interview you thought went great. However, if your mouth is riddled with imperfections like damaged and discolored teeth, you may feel the need to hide your smile instead of letting it shine. We want you to confidently be able to express your happiness and let your smile show, which is why our skilled cosmetic dentist in Lewis Center, OH offers several cosmetic dental treatments that can help do just that!
Why Choose The Dental Group at Polaris for Cosmetic Dentistry?
Custom-Tailored Smile Makeovers
Experienced & Friendly Dental Team
Discreet & Removable Invisalign Aligners
Veneers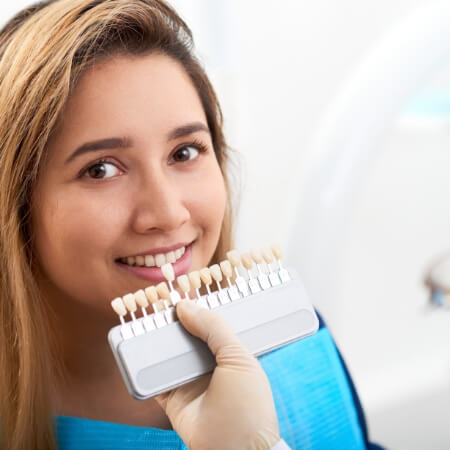 Veneers are thin, ceramic or porcelain sheaths that are individually made to fit over the visible surface of teeth to conceal aesthetic flaws like chips, cracks, gaps, and severe discoloration. Before the veneers can be placed, your natural teeth must have a small portion of their enamel removed. This will allow the restorations to lay flush with your surrounding teeth. With the proper care, veneers can last for up to 25 years.
Lumineers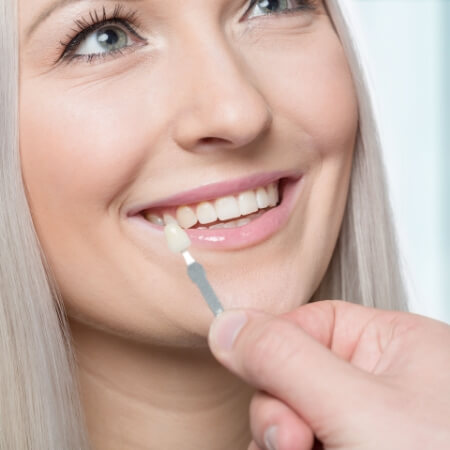 Lumineers are able to complete similar aesthetic changes to your smile as veneers, but they're crafted to be even thinner to avoid needing any preparation of your natural teeth to be placed. This makes them a great, more temporary alternative to veneers for patients who aren't sure they want to commit to the preparation aspect of the treatment. With diligent maintenance, Lumineers can last for up to 10 years.
Metal-Free Dental Restorations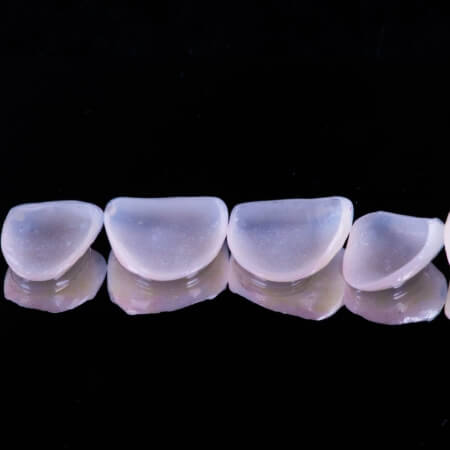 In the past, dentists would use metal materials to restore teeth that have been affected by decay, damage, or were severely misshapen. Not only would these cause unwanted side-effects like sensitivity and tooth discoloration, but they would also highlight damaged teeth in the mouth. Today, we utilize high-quality, natural looking materials like porcelain, ceramic, and composite resin to restore teeth so you don't have to worry about discomfort and can have an aesthetically pleasing smile.
Teeth Whitening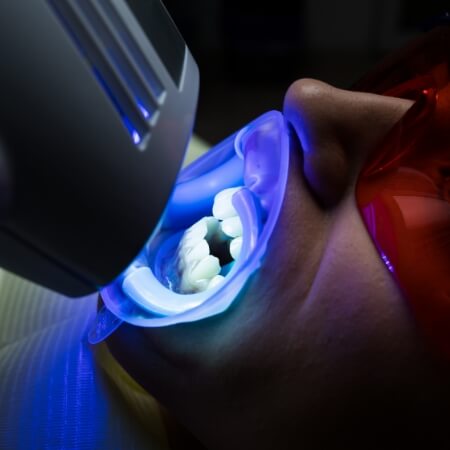 Have you been trying to whiten your smile with over-the-counter toothpaste and whitening strips with no luck? These products make big promises on the packages, but they rarely deliver. That's why we recommend investing in professional take-home or in-office teeth whitening. We use Zoom! and Opalescence Go whitening products that contain concentrated ingredients that can brighten your grin by up to eight shades in as little as an hour-long visit to our dental office or two weeks of at-home treatment.
Invisalign Clear Aligners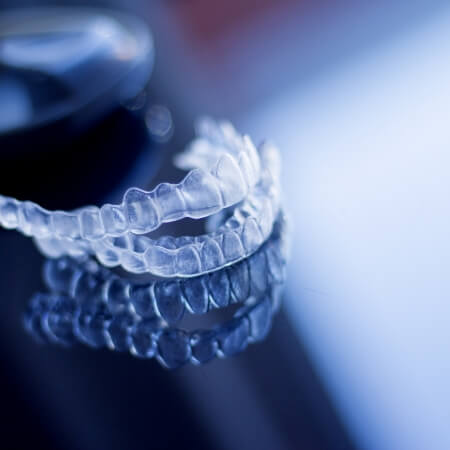 Receiving orthodontic treatment used to mean committing to having metal brackets and wires in your mouth for years, but today, straightening your smile can look very different! Invisalign uses clear aligners to gradually shift teeth into their ideal position over time, addressing problems like misalignment, crowding, overbite, underbite, and crossbite. They're discreet and removable, making keeping up with your oral hygiene and maintaining a balanced diet while undergoing treatment easier than ever!
Dental Bonding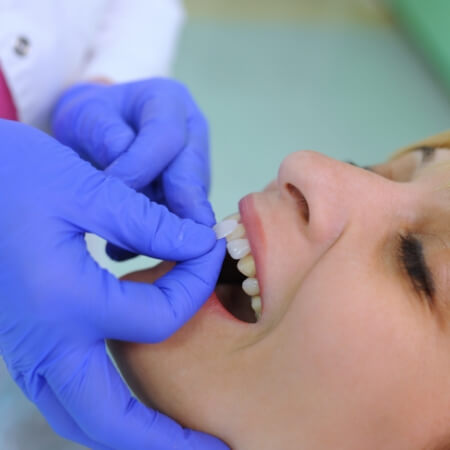 Direct bonding is a cost-effective and fast cosmetic treatment that can fix damaged and discolored teeth within a single appointment, depending on the extent of the damage. Using a composite resin putty-like material, our dentists are able to rebuild the missing portion of your tooth. The resin is then texturized to look exactly like your natural enamel, so once the process is complete, you'll have a hard time remembering what tooth was the damaged one!
Learn More About Direct Bonding
Smile Makeovers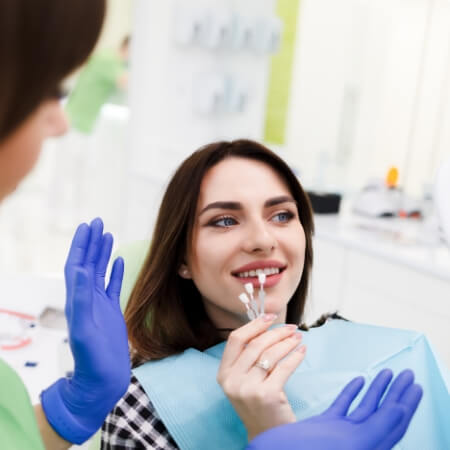 Our skilled team at The Dental Group at Polaris is versed in cosmetic dentistry and smile makeovers in Lewis Center, and we're eager to give you a gorgeous smile you're comfortable and confident in. Our team of creatives knows what you need to get a radiant new smile. We take several factors into account when planning makeovers, like age, facial features, and the type of look you want to obtain. Based on your consultation, we may recommend any of the following treatments for your smile makeover plan:
Veneers
Implants
Invisalign
Teeth whitening
Other cosmetic treatments as needed
Once you and one of our staff members determines the right procedures for your specific needs, we'll use the most cutting-edge technology to get you the smile you deserve. We will thoughtfully work with you every step of the way to give you a smile you feel confident in.