Dentures – Lewis Center, OH
The Tried-and-True Solution for Tooth Loss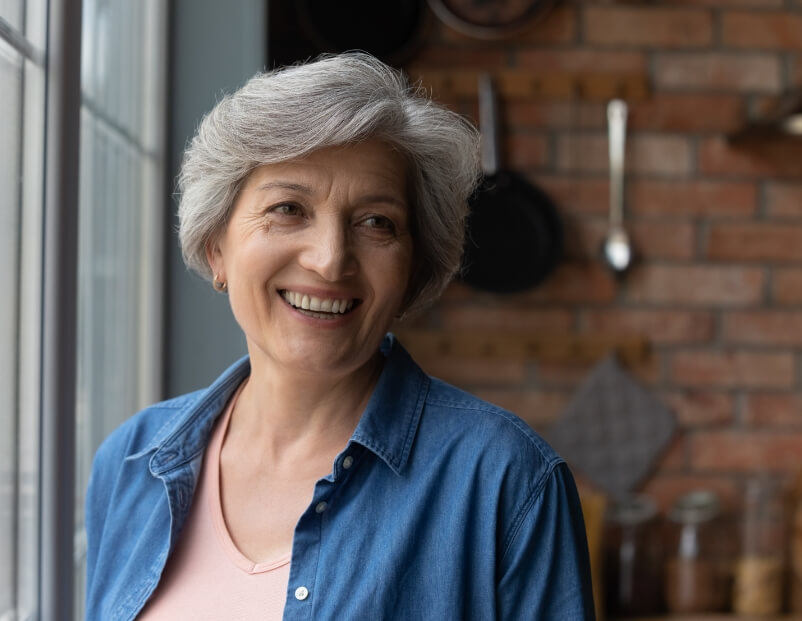 Modern dentures are a trusted dental treatment that can replace several or all missing teeth along an arch to improve your quality of life by making eating and speaking easier. Having gaps in your smile can have a drastic impact on your confidence as well as your oral health, which is why our dentistry team works closely with dental patients suffering from tooth loss to create customized treatment plans that provide them with revitalized smiles. If you'd like to learn more, give our dental office a call to schedule a consultation today to discuss tooth replacement with dentures in Lewis Center, OH!
Why Choose The Dental Group at Polaris for Dentures?
We Accept & Maximize Dental Insurance
Family-Friendly Dental Office
Experienced & Kind Dental Team
What are Dentures?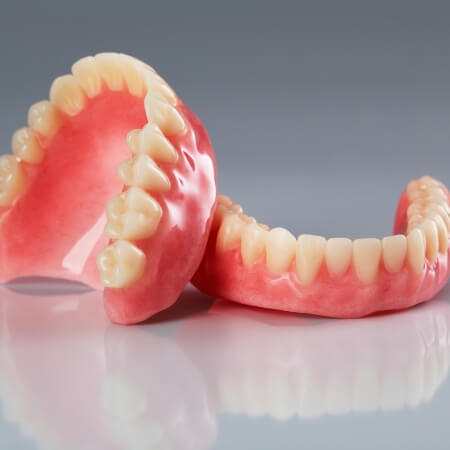 Dentures are dental restorations that are custom crafted to utilize either natural suction that occurs in the mouth or strategically designed metal foundations to secure replacement teeth that make completing everyday tasks easier. They can also be attached to titanium dental implants for an unwavering alternative with improved bite power, based on your needs and budget.
Types of Dentures
While there are several different kinds of dentures, each is unique and provides specific functions. At your initial appointment, we can discuss if dentures are a good treatment option for your specific dental needs.
Full Dentures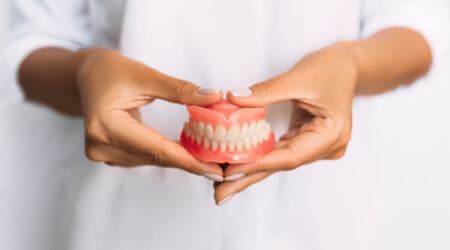 Conventional complete dentures include an upper and lower denture. The upper denture replaces the top row of teeth and locks onto your upper gums and palate, covering the roof of your mouth. The lower denture replaces the bottom row of teeth and is situated on your lower gums to support your tongue, saliva, and cheek muscles.
For conventional complete dentures to be positioned, your mouth can't have any of your natural teeth. This means that some of your natural teeth may need to be taken out to place your dentures. If this is the case, once your gums have healed, then your dentures can be installed.
Implant-Supported Dentures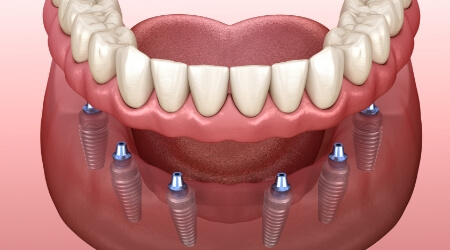 Like conventional complete dentures, implant-supported dentures are dentures secured to anywhere from four to eight dental implants situated along your arch. Once they've fused with the jawbone, the restoration can be attached to the posts.
Immediate Dentures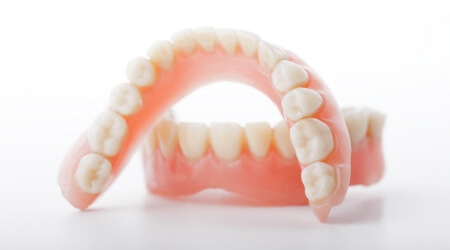 Immediate dentures are placed after your existing teeth have been extracted. Unlike other dentures, you don't need to wait for your gums to completely heal before we place your restoration. Although, we might need to make further modifications when your gums heal.
Partial Dentures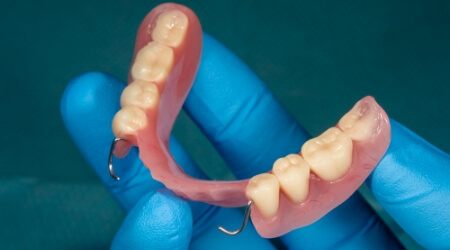 Partial dentures are made up of artificial teeth attached to a plastic or metal base to match the appearance of your real teeth and gums. Unlike complete dentures, partial dentures require remaining teeth because the base uses these to secure the replacement teeth within the mouth.
Denture Maintenance Tips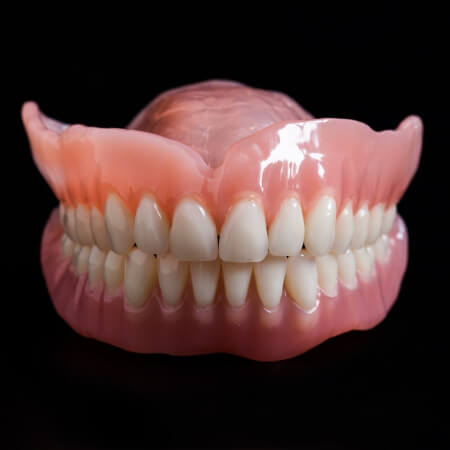 Maintaining your dentures properly can help them last a lifetime. Here are some recommendations from our team for caring for your dentures.
Handle Delicately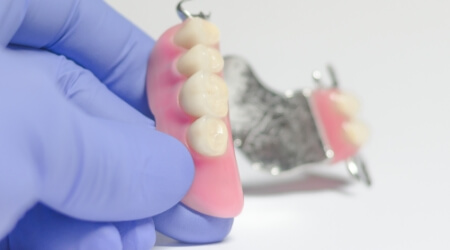 Dentures are delicate and need to be handled with care. They can easily break if dropped even just a few inches. When you're not wearing your dentures, carefully place them on a folded towel or in the sink with cool water. It is important to never put your dentures in hot water because the heat can distort them.
Store Properly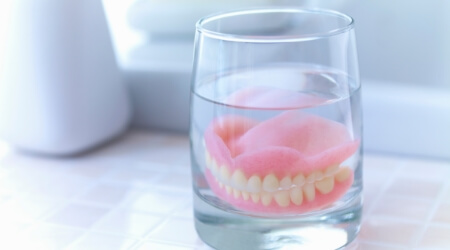 When you don't have your dentures in, they must be kept in water to keep them from drying out or changing their shape. Make sure to keep your dentures out of reach of pets and children, as they can be a potential choking hazard.
Clean Thoroughly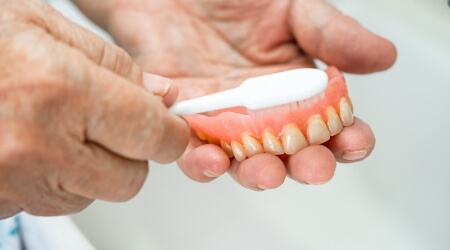 To clean your dentures, take them out of your mouth and wash them with cool water to remove any food particles. Use a special denture brush and denture cleaner to prevent abrasive ingredients from scratching and damaging them. After you're done cleaning your dentures, wash them off with cool water to remove any unwanted chemicals from the cleaner. Do this at least once every day and rinse your dentures after each time you eat.
Dentures are more fragile and should not be cleaned with regular toothpaste or toothbrushes with hard bristles. These products can be too harsh and scrape your dentures. This causes them to be more prone to stains, tougher to clean, and less visually appealing. We recommend using denture cleaners that have the American Dental Association Seal of Acceptance.
Diet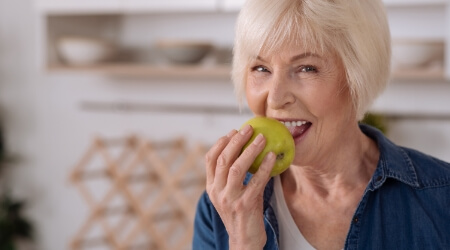 Maintaining a balanced diet is essential for your dentures to stay in place and continue looking great. Try to stay away from food that may cause discoloration or hard foods that could risk damaging your dentures.
Visit the Dentist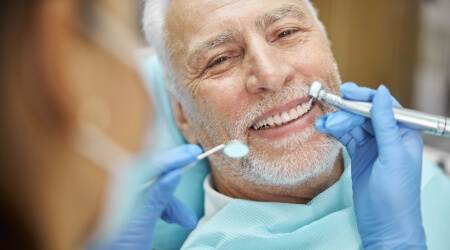 Regular visits allow us to check if your dentures and mouth are functioning properly with one another. We will check the fit or your dentures and look for any indication of oral diseases.
Who Should Get Dentures?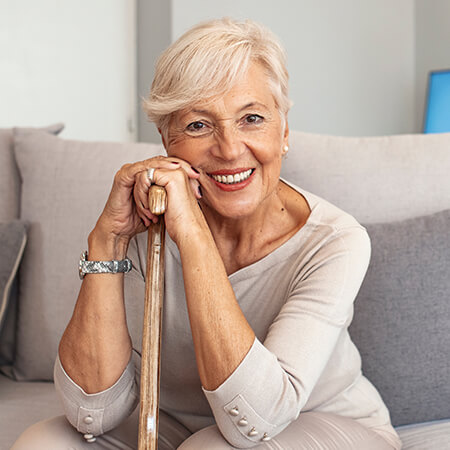 Dentures are a great option if you have several missing teeth and want to ensure proper oral functionality and still look good. Call us or make an appointment to discuss tooth replacement solutions that would be most beneficial for you.
At The Dental Group at Polaris, we collaborate with premier lab professionals in Lewis Center, Columbus, Powell, Westerville, and Galena to provide you with the greatest dentures in Ohio.
Call us today (614) 888-3692 to make an appointment.
We can't wait to help get your mouth working properly and that smile looking better than ever!